Metal
Packaging - UN Packaging

SMPL is a reputable manufacturer that has been consistently receiving UN certification for products which meet the United Nations Recommendations on the Transport of Dangerous Goods since 1991.
With over 19 years of experience, SMPL offers a large selection of performance-orientated certified UN-marking metal packaging solutions, which ensures overseas, ground and international air shipments are in compliance with all regulations concerning hazardous materials and dangerous goods. Our UN marking metal products have also been certified by the TÜV SÜD PSB in Singapore, an independent product certification body that provides specific testing service.
Please see below for the different range of products available with UN specification packaging.
What is UN?
Since 1 January 1991, all dangerous goods in international marine and international or domestic air transport were required to be in packaging displaying the "UN" marking. The mark indicates that the packaging design has been tested in accordance with the recommendations of the United Nations Committee of Experts on the Transport of Dangerous Goods, which have been adopted by the International Civil Aviation Organisation (ICAO) and the International Maritime Organisation (IMO).
Products certified to UN marking have to undergo stringent test requirements, consisting of a number of performance oriented tests related to packaging integrity such as drop test, stacking test, and hydrostatic pressure test for packaging in liquid service.
Our pails when filled with Dangerous Goods product had been tested to withstand a drop height of up to 2.0 meter without leaking. Our containers are able to withstand Hydraulic Pressure of up to 180kPa.
Open Top Pail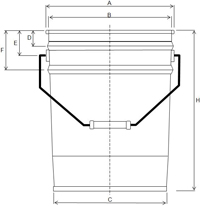 Body Thickness (mm): from 0.34 ± 0.03 to 0.43 ± 0.04
Bottom Thickness (mm): from 0.34 ± 0.03 to 0.43 ± 0.04
Cover Thickness (mm): from 0.34 ± 0.03 to 0.50 ± 0.05
Capacity
UN Code
A (mm)
B (mm)
C (mm)
D (mm)
E (mm)
F (mm)
H (mm)

1A2/Y1.4/60/**
SGP/SMP045

Ø 299 ± 1

Ø 285 ± 1

Ø 276 ± 1

35 ± 1

62 ± 3

90 ± 1

271 ± 1

1A2/X16/S/**
SGP/SMP049

Ø 299 ± 1

Ø 285 ± 1

Ø 276 ± 1

35 ± 1

62 ± 3

90 ± 1

300 ± 1

1A2/Y1.2/50/**
SGP/SMP034

Ø 299 ± 1

Ø 285 ± 1

Ø 276 ± 1

35 ± 1

62 ± 3

90 ± 1

365 ± 1

1A2/Y15/S/**
SGP/SMP036

Ø 299 ± 1

Ø 285 ± 1

Ø 276 ± 1

35 ± 1

62 ± 3

90 ± 1

365 ± 1

1A2/Y1.2/50/**
SGP/SMP050

Ø 299 ± 1

Ø 285 ± 1

Ø 276 ± 1

35 ± 1

62 ± 3

90 ± 1

365 ± 1

1A2/Y1.6/60/**
SGP/SMP039

Ø 299 ± 1

Ø 285 ± 1

Ø 276 ± 1

35 ± 1

62 ± 3

90 ± 1

365 ± 1

1A2/Y2.0/60/**
SGP/SMP046

Ø 299 ± 1

Ø 285 ± 1

Ø 276 ± 1

35 ± 1

62 ± 3

90 ± 1

375 ± 1

1A2/Y1.6/60/**
SGP/SMP047

Ø 299 ± 1

Ø 285 ± 1

Ø 276 ± 1

35 ± 1

62 ± 3

90 ± 1

375 ± 1

1A2/Y1.6/60/**
SGP/SMP048

Ø 299 ± 1

Ø 285 ± 1

Ø 276 ± 1

35 ± 1

62 ± 3

90 ± 1

375 ± 1

1A2/Y1.6/70/**
SGP/SMP051

Ø 299 ± 1

Ø 285 ± 1

Ø 276 ± 1

35 ± 1

62 ± 3

111 ± 1

402 ± 1

1A2/Y1.2/70/**
SGP/SMP033

Ø 299 ± 1

Ø 285 ± 1

Ø 276 ± 1

35 ± 1

62 ± 3

110 ± 1

445 ± 1
Tight Head Pail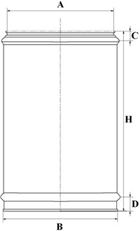 Body Thickness (mm): from 0.38 ± 0.04 to 0.43 ± 0.04
Bottom Thickness (mm): from 0.38 ± 0.04 to 0.43 ± 0.04
Top Thickness (mm): from 0.38 ± 0.04 to 0.43 ± 0.04
Capacity
UN Code
A (mm)
B (mm)
C (mm)
D (mm)
E (mm)
H (mm)
Closure

1A1/Y1.6/120/**
SGP/SMP040

Ø 275 ± 1

Ø 290 ± 1

35 ± 1

35 ± 1

45 ± 5

371 ± 1

Royal Cap

1A1/Y1.6/150/**
SGP/SMP032

Ø 275 ± 1

Ø 290 ± 1

35 ± 1

35 ± 1

60 ± 5

371 ± 1

Flange & Plug

1A1/Y1.6/150/**
SGP/SMP035

Ø 275 ± 1

Ø 290 ± 1

35 ± 1

35 ± 1

45 ± 5

371 ± 1

Screw Cap

1A1/Y1.6/180/**
SGP/SMP038

Ø 275 ± 1

Ø 290 ± 1

35 ± 1

35 ± 1

45 ± 5

450 ± 1

Royal Cap

1A1/Y1.6/150/**
SGP/SMP044

Ø 275 ± 1

Ø 290 ± 1

35 ± 1

35 ± 1

45 ± 5

450 ± 1

Screw Cap

1A1/Y1.2/160/**
SGP/SMP052

Ø 275 ± 1

Ø 290 ± 1

35 ± 1

35 ± 1

45 ± 5

478 ± 1

Flexspout
Tight Head Can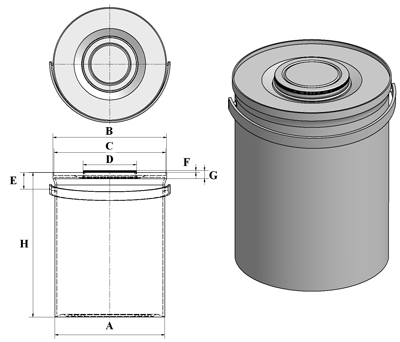 Body Thickness (mm): 0.25 ± 0.02
Bottom Thickness (mm): 0.25 ± 0.02
Top Thickness (mm): 0.25 ± 0.02
Capacity
UN Code
A (mm)
B (mm)
C (mm)
D (mm)
E (mm)
F (mm)
G (mm)

1A1/Y1.4/90/**
SGP/SMP041

Ø 178 ± 1

Ø 178 ± 1

Ø 114 ± 1

Ø 69 ± 1

25 ± 3

2.50 ± 0.50

12 ± 1